About
We are delighted to announce our new album 'Holding Out for Freedom' is now available on all major download sites. CD format also available at our STORE TAB above!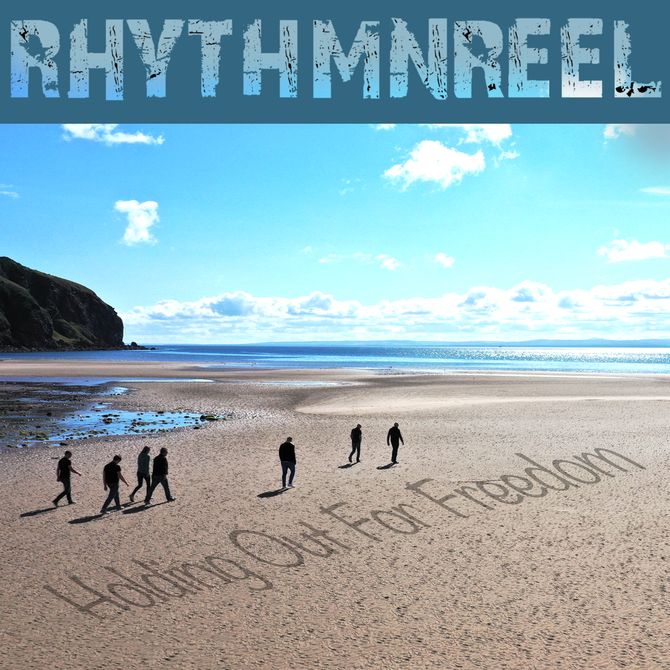 Track List: 
1.  Show me the way 
2.  Lonely Mountain Road 
3.  Tragic Carpet  
4.  Black is the Colour  
5.  Holding out for Freedom 
6.  Song for the people 
7.  Billy's 
8.  Ice, Trees & Lullabies 
9.  Town that I love 
10. Charlie's Tune 
11. The Dark Island 
Based in the Highlands of Scotland, Rhythmnreel are a Rock band with an upbeat foot stomping Celtic vibe.. Their music is driven by thumping bass, drums & guitars, embellished with fiddle, whistle & Highland bagpipes, enveloped in the warm tones of the saxophone with songs & melodies that once inside your ears won't leave you even in your deepest slumber.. The band were formed back in 1993 & have built up a strong & loyal following, both at home in Scotland & overseas with regular tours to Germany, Switzerland & Holland, as well as many Festival appearances around the UK. They have performed at many & varied functions over the years from Marquee dances to Ceilidh's, from Highland games to weddings & are more than renowned for some memorable & Barn Storming performances in the village halls up & down the North & West coast of Scotland.. In March 2020 the band warmly welcomed to the line up, Singer/ Songwriter & guitarist Davy Cowan & his son Sam Cowan on drums. Davy has been a long time friend to the band and a past collaborator with fiddle player Debbie Ross in the 90's Easter Ross based Folk/ Rock band 'Coinneach' before moving to a solo career recording & touring throughout the UK & Europe. The band released their new album entitled 'Holding Out For Freedom' in July 2021 with the single & video of the same name on 25th June. Also on the album are previous singles, 'Lonely Mountain Road' released in April 2020, & their own version of the Western Isles classic 'The Dark Island' in December 2020 Keep your ear to the ground and watch out for the band out there on the road, coming to a venue somewhere near you soon..
We're delighted to announce the new single 'Holding Out for Freedom' and official Video released on 25 June 2021! 
GET IT NOW! SEE LINKS AT:  
iTunes, Spotify, Amazon Music and many others.